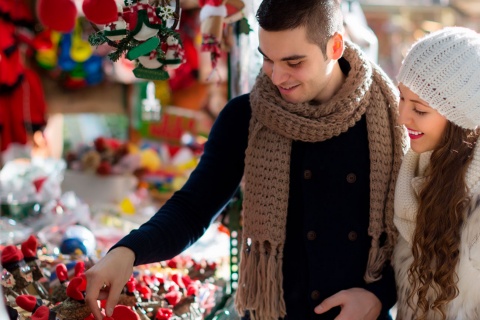 Christmas markets in Spain
The markets have become another Christmas attraction in Spain. Searching for special gifts among beautiful wooden stalls in central squares, on riverbanks, promenades and other charming areas of Spanish cities and villages is a December tradition. The mix of smells, colours and Christmas flavours is the essence of these markets in which the musical note of traditional Christmas carols is not lacking.Do you want to know which are some of the most unique Christmas markets in Spain?
Barcelona

The city's main Christmas market, the Santa Lucía Fair, is set up next to the Barcelona Cathedral from the end of November. More than 200 stalls with trees and decorative items; fashion accessories, ceramics and jewellery; zambombas, tambourines and other Christmas instruments. Performances by choirs, storytellers and parades are also scheduled on these dates.

Bilbao

Fashion and jewellery, Basque cuisine products, toys and Christmas decorations can be found in around twenty booths on the Bilbao estuary, on the Ripa dock. Gabonart, the Christmas Craft Fair, is set up next to the Arriaga Theatre in mid-December. And another very popular gastronomic event included in the Bilbao Christmas market is the Santo Tomás Fair -on December 21-, where local products such as cider, chorizo, cheese and txakoli wine take centre stage.

Granada

In the central squares of the Fuente de las Batallas and Bib-Rambla between December to 6 January 6 you can visit the nearly 70 stalls of the Granada Christmas Market, where you can buy Christmas decorations, typical sweets, crafts, books, plants and cosmetic products.

Madrid

Decorations and all kinds of Nativity figurines, Christmas musical instruments, toys, sweets and... joke items! More than a hundred stalls await you from the end of November to 31 December at the Christmas market in the Plaza Mayor square in Madrid, a few metres from the Puerta del Sol square, which houses the historic clock that chimes out he last night of the year for the whole of Spain.

Malaga

The Muelle Uno Christmas market, in the port of Malaga, invites you to seek inspiration by the sea to find the most original gifts. Local food and cured meats and sausages, decorations, crafts and fashion... Charming sunset walks and shopping in its many stalls from the end of November to the beginning of January.

Majorca

The Puerto Portals market has more than 40 wooden stalls with original decoration items, accessories and wooden toys, among others. There is also an extensive activity programme that includes an ice skating rink and numerous dining options to relax between shopping.

San Sebastián

Around 56 stalls along the Urumea River in a unique environment. The San Sebastián Christmas market from 1 December 2023 to 7 January 2024 also celebrates multiple parallel cultural and gastronomic activities.

Santiago de Compostela

About 70 stalls selling Christmas decorations, gourmet products and crafts (jewellery, wood, ceramics, glass, leather, toys, textiles, and design) make up the Nadal Market in Santiago de Compostela, located on Rua Carreira dos Condes, with creative spaces where different workshops are held for all audiences.

Seville

The Seville Craft Market, very close to La Giralda and the Cathedral, offers more than 80 stalls with crafts, Christmas items and sweets, and organises chocolates, snacks and other entertainment activities for the little ones, from mid-December to the first week of January. It also has a restaurant area to try typical Sevillian dishes.

Valencia

Next to the Valencia Science Museum, the Christmas Market of the Ciutat de les Arts is set up between 16 December and 8 January, where the crafts and Christmas items stalls alternate with a variety of mobile food stalls and children's activities such as a puppet theatre, storytelling and collecting letters for the Three Wise Men and Santa Claus.

Zaragoza

In addition to an immense Nativity scene and a large skating rink, the Plaza del Pilar hosts a Christmas market with more than 40 stalls selling crafts, jewellery, toys, clothing, decoration, food, etc. Santa Claus Village and the Wishing Tree are other attractions found in the surroundings of the Pilar Basilica.
In short, cozy outdoor spaces where you can buy interesting souvenirs or simply enjoy the atmosphere and experience the fullness of the Christmas festivities.