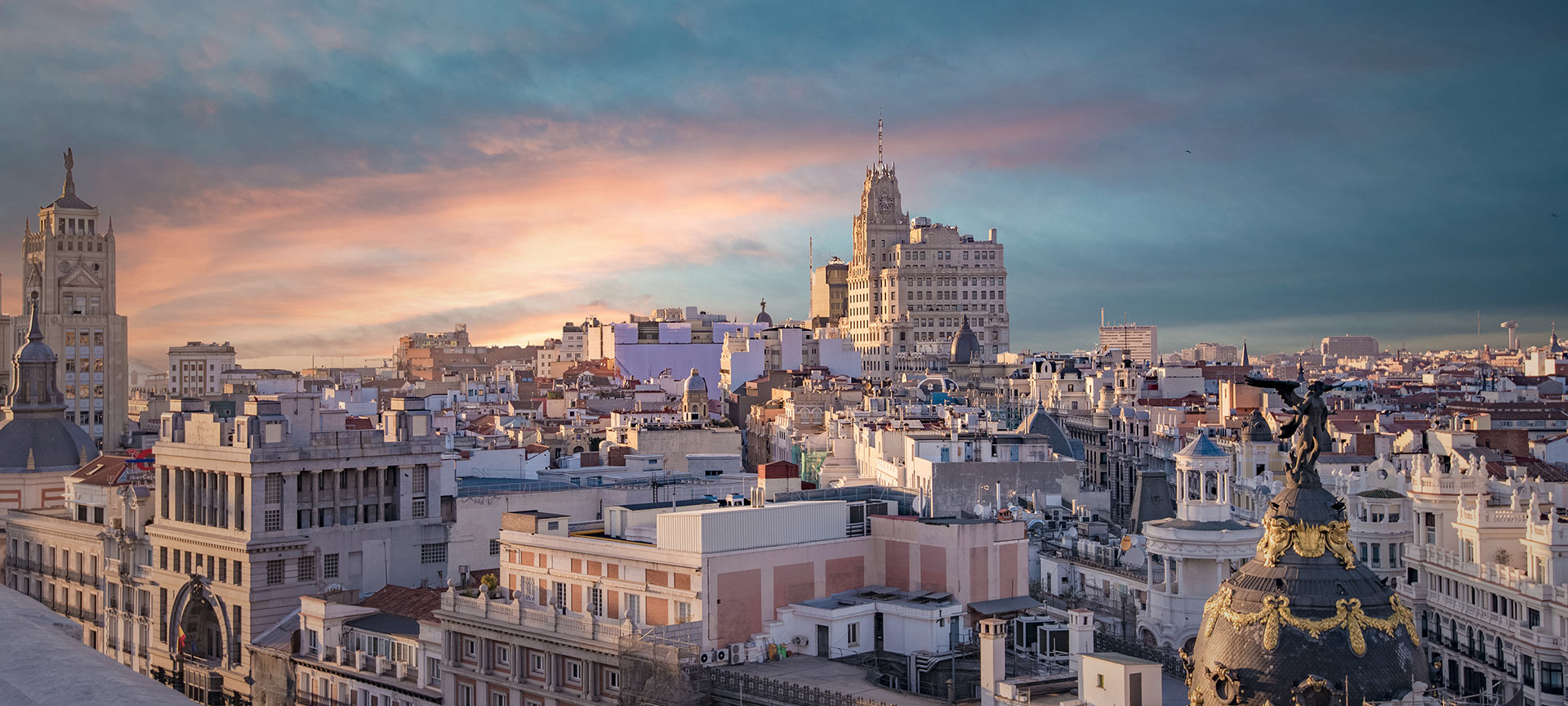 Architectural Madrid: these are the most famous buildings that you need to add to your visit list
Madrid is an incredible city, packed with things to do and places to discover. And it's also a perfect place for losing yourself in if you're a lover of architecture. This is because of the huge number of architectural styles that make up the city's urban landscape, buildings and monuments from different eras that coexist in harmony that you'll be able to discover simply by taking a walk around Madrid. We are going to tell you about some of the most famous, those that really mustn't be missed.
The Metropolis Building

One of the best known and most often photographed buildings in the city, it stands at the corner of two of Madrid's most important thoroughfares, Calle Alcalá and Gran Vía. Built in French architectural style, at a height of 45 metres it was for many years one of the tallest buildings in Madrid. Doubtless the first thing that will grab your attention is the roof, a beautiful slate dome lavishly decorated with around 30,000 sheets of gold leaf, topped with a statue of Winged Victory. An incredibly beautiful piece of architecture that you'll find at Calle Alcalá 42.

Las Cuatro Torres

In the La Paz neighbourhood, right next to the Paseo de la Castellana, you'll find an enterprise zone that forms a key part of the city's skyline, and is known as the Cuatro Torres Business Area. The Cuatro Torres (four towers) are the Torre de Cristal, the Torre Cepsa, the Torre Espacio and the Torre PwC, and two of them are among the highest buildings in Spain. The first of these, the Torre de Cristal, is more than 249 metres high and has 52 floors, and the second is the Torre Cepsa, which is 248 metres in height, and has 45 floors.

Las Torres Blancas

Between Calle Corazón de María number 2, and Avenida América 37, you'll see one of the greatest icons of organic architecture in Spain, and a building that was one of the most innovative concrete structures of its time. The building was designed to resemble a tree and rises to a height of 80 metres, creating a cluster of circular shapes that are sure to grab your attention. It was the winner of the first COAM prize, awarded by Madrid's Colegio Oficial de Arquitectos, and also won the European Excellence Award.

La Casa de las Flores

You'll find this building in the heart of Madrid's Chamberí neighbourhood. It's an excellent example of rationalist architecture, and a key part of the subsequent plan to open up a prolongation of the Paseo de la Castellana. Furthermore, this is where poet Pablo Neruda stayed, and he mentions the Casa de las Flores in some of his well-known poems. The building was declared a National Monument in 1981, and as you might imagine owes its name, which translates into English as 'The House of Flowers', to the mass of potted plants on its balconies, that look stunning when in flower.

La Tabacalera

You'll find this one at number 51, Calle Embajadores, right in the heart of the Lavapiés district. It's a former tobacco factory, and the building is a prime example of 18th century industrial architecture. Today it's a Property of Cultural Interest, and at the same time a cultural centre for the promotion of the arts, a self-managed space that hosts temporary exhibitions of photography and different types of art.
This is a cosmopolitan city with examples of many different architectural styles for you to enjoy as you wander through its streets. Immerse yourself in Madrid and discover some unmissable buildings.
What to do
Travel plans for inspiring you
---