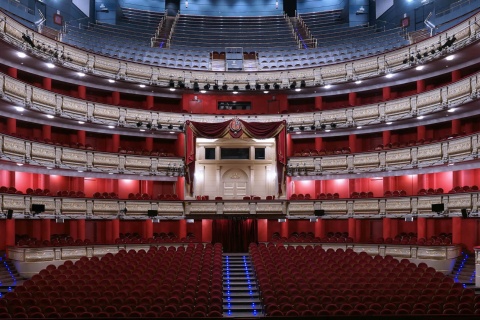 Located very close to the Puerta del Sol, the Teatro Real in Madrid is one of the leading theatres in the world. In recent years, it has received numerous awards, including the International Opera Award for Best Opera House.
It opened in 1850, and became one of the main European theatres. However, a collapse in 1925 led to its closure for four decades. In 1966, it opened again as an auditorium and headquarters of the Royal Superior Conservatory of Music and School of Dramatic Art. But it was only in 1997 when it reopened as an opera house after several years of renovations.The building is an architectural mix that has 28 boxes on different floors, as well as eight prosceniums and the double-height Royal Box. It also boasts a floor dedicated exclusively to the public ("La Rotonda"), where you find four large halls decorated with elements of National Heritage, from the Prado Museum and lamps made in the Royal Factory of La Granja. The jewel of the theatre is its stage box which, at 1,472 square metres, allows for complex changes of scenery and multiple combinations on the stage and the orchestra pit. The Teatro Real offers different guided tours of its spaces and interesting facts, its technical operation and the artistic view of an opera show.
Teatro Real
---
Plaza de Isabel II, s/n.
28013 Madrid (Madrid Region)
What to do
Travel plans for inspiring you
---