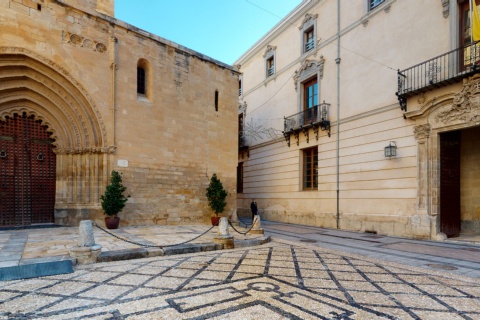 Diocesan Museum of Religious Art (Orihuela)
The Diocesan Museum of Religious Art in Orihuela holds an interesting collection, including paintings, sculptures, precious metalwork, textiles and furniture.
The museum is situated in the Episcopal Palace, a 16th century building. In the chapel we find the most important painting in its collection: "The Temptation of St Thomas Aquinas", by Diego Velázquez. There are also paintings by Sánchez Coello and the school of Juan de Juanes, amongst others.Regarding sculptures, there are medieval works such as the Enthroned Virgin, dating from the 13th century. It also holds an important set of precious metalwork items, some of them Italian, such as the Cardinal Despuig's chalice. There are also textile items, manuscripts and incunabula, such as, for example, the "Nuremberg Chronicle" (1493).
Diocesan Museum of Religious Art (Orihuela)
---
Orihuela Episcopal Palace and Cathedral
C/ Ramón y Cajal, s/n
03300 Orihuela, Alicante - Alacant (Region of Valencia)