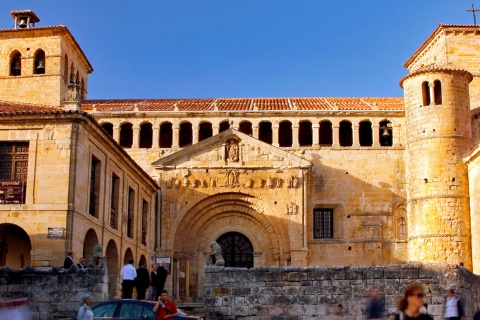 Santillana del Mar Collegiate Church
The Romanesque heart of Santillana del Mar.
---
The church has its origins in a monastery dating from 870. Tradition has it that it was home to the relics of Santa Juliana.
Over the course of the 11th century it was transformed into a collegiate church, although the building visible today dates from the 12th century. It has three naves, with dome, transept, three semi-circular apses and a tower. The transept and apses conserve their original barrel-vaulted ceilings. Special mention should be made of the sculptural decoration of the doorway, the capitals and the cloister. Inside you can see medieval tombs and Romanesque reliefs from the 11th and 12th centuries. The main altar has an embossed silver front dating from the 17th century. Beneath this is another, in Romanesque style. The altarpiece is the work of a master artist from Burgos, dating from the beginning of the 16th century. A late-Gothic predelle was subsequently added, along with the Baroque statue of Santa Juliana between two Solomonic columns. On the main doorway there is a Byzantine pantocrator and an atrium flanked by two lions.
Santillana del Mar Collegiate Church
---
Plaza del Abad Francisco Navarro, s/n.
39330 Santillana, Santillana del Mar, Cantabria (Cantabria)