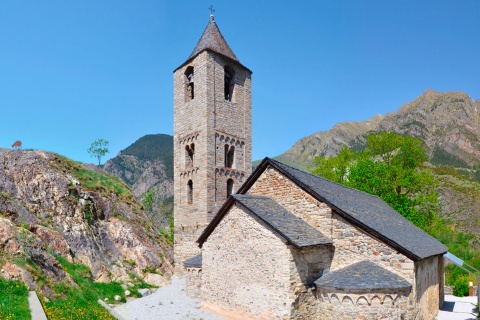 Church of San Juan de Boí
San Juan de Boí is one of the Romanesque churches in the Boí Valley, which received the UNESCO World Heritage designation in 2000.
Located in one of the largest towns in the Vall de Boí, this church has a basilical floor plan with three naves ending in semi-circular apses, except for the modified central apse. The church naves are separated by semi-circular arches supported by pillars with circular and rectangular bases. The bell tower adjoining the southern façade is square in shape and has been modified on the last floor. The original mural paintings were stripped between 1919 and 1923; copies have today been made of the inside and outside. Highlights of the paintings include the Bestiary series, the Stoning of Saint Stephen and the scene of the musicians and acrobats.
Church of San Juan de Boí
---
25528 Boi, Vall de Boí, La, Lleida (Catalonia)
What to do
Travel plans for inspiring you
---