If you're a night owl, this is when you'll find the maximum opportunity for partying. Here are a few ideas to guide you when you set out to enjoy Spain's "movida" in any of the top cities for nightlife.
Madrid
Madrid comes alive at night, and especially at the weekend. You'll find nightlife in the various leisure areas and districts with an endless array of clubs, bars, cafés and fashionable venues to choose from.Its lively nightlife is famous worldwide. If there's one city where you know you'll be able to dance all night long to whatever music you like, where you'll come across people from hundreds of different nationalities and discover venues in every possible style, that city is bound to be Madrid.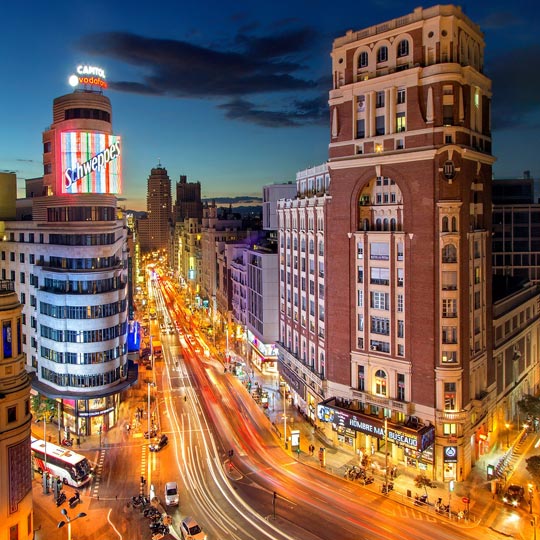 You'll see how the atmosphere changes depending on the area. If you're looking for an evening with a little refinement, take a stroll around the Salamanca district. If you prefer something more underground with rock and alternative pop, head for the Malasaña district. The best place to mingle with international crowds is in the "Huertas" neighbourhood. And to find the latest hip discos and clubs with sessions by the best djs, as well as the chance to spot a few famous faces, the best place to go is the centre, in the area around the Gran Vía and Sol.The Chueca area, known for its gay scene, also has plenty of edgy venues, techno clubs and designer bars. In fact, this district has always been one of the coolest.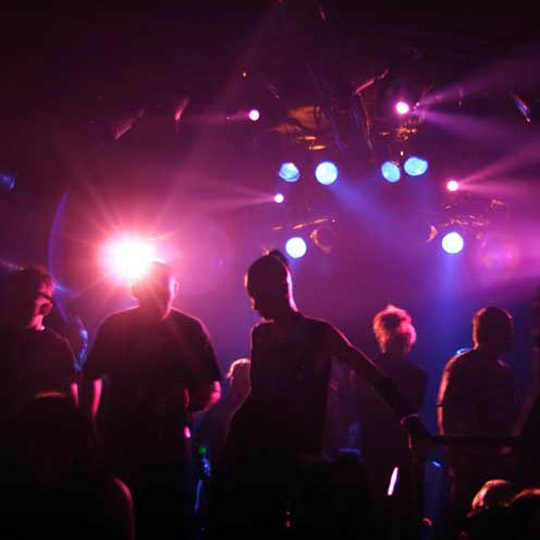 Although any time in Madrid is a good time for dancing and meeting people, you'll find the best atmosphere on Thursdays to Saturdays, starting around midnight.
Barcelona
A good way to enjoy the nightlife on offer in Barcelona is by dancing through the night to the latest techno sounds. The nightclubs in Barcelona are famous all over the world for their electronic music. Many of the top names come to deejay in the city's discos. In areas such as Eixample and Sant Gervasi – Santaló there are numerous venues where techno sounds can be heard all night long. Particularly lively spots include the well-known Gaixample, much frequented by the LGBT community, with its easy-going, anything-goes atmosphere.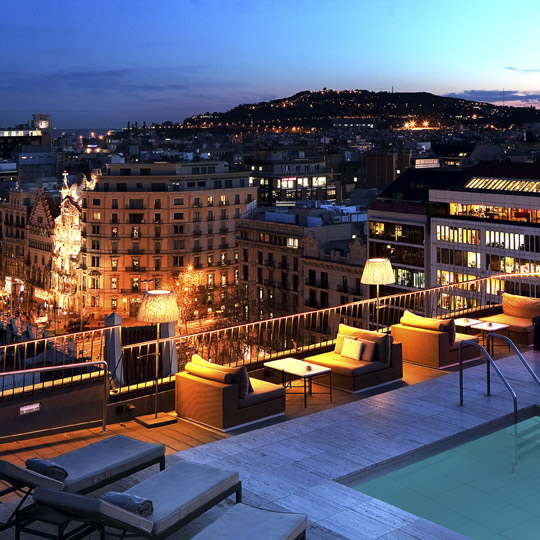 In the Poble Nou area there are numerous large discos and spacious bars featuring alternative rock, indie and the latest pop sounds. In the Port Olimpic, one of the city's most popular areas, the nightlife is intense and sophisticated. If you're looking for cutting-edge design, the latest trends and good cocktail bars, you should opt for El Born, where the music attracts a wide range of personalities from Barcelona's night scene.
Ibiza
Ibiza nights are unforgettable, which is why thousands of people flock to the island every year. You'll have a great time at some of the best clubs on earth, with music from famous DJs to dance the night away.The party lasts all night long, but it still won't seem long enough. After just one night, you'll understand why Ibiza's nightlife is so famous and you'll want to experience it again. You'll meet loads of people looking for a fun time, and you might even bump into some of the celebrities who come to Ibiza to enjoy the atmosphere of its outdoor terraces and discos.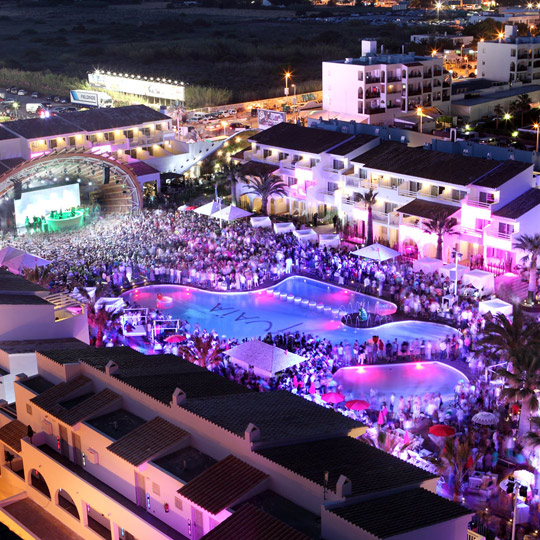 Valencia
Valencia's nightlife is full of people who are raring to get out and have fun, feel the music and dance. The most popular area is the district known as Barrio del Carmen, in the old town centre, although the clubs and bars around Plaza de Xúquer, Avenida de Aragón and Plaza Cánovas are also very well known.If you're looking for a more alternative district, check out L'Eixample de Ruzafa, with modern restaurants and clubs and small venues with independent music.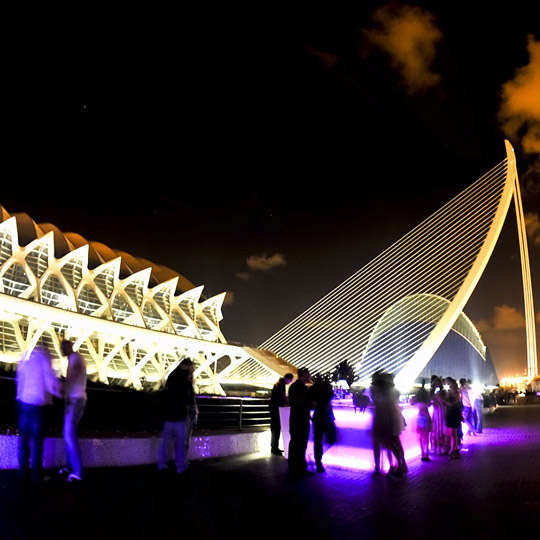 If you are looking for something sophisticated, bear in mind that the L'Umbracle area of the City of Arts and Sciences turns into a terrace bar. And also consider going to the Marina Real area, especially if you're visiting the city during July and August, if you're in the mood for a few drinks or electronic music.
Benidorm
Benidorm is a town to enjoy any time of the day or night. At night, you'll find as much going on outside the clubs as inside them, especially in the summer months. There are more than 150 pubs and discos where you can dance, laugh, have a few drinks and make new friends until dawn. The atmosphere, music, people, entertainment shows, go-go dancers… everything you need to party till you drop. Only you decide when the party's over.Many young people gather at bars on and around Levante beach, and on Calle Esperanto. There are also very popular places on Calle Gerona, Ibiza, Mallorca and Londrés, which is known as the "English area".