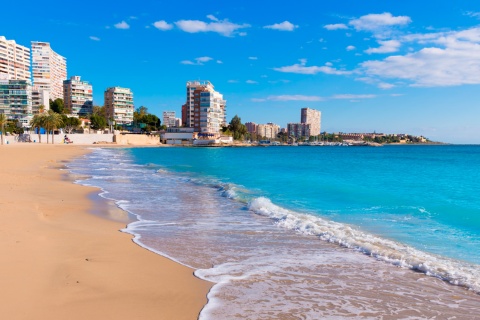 Beach: San Juan (Condomina)
It is very wide and has spaces for playing different sports, such as beach volleyball courts, mini football goals, etc. In addition, there is a promenade along the beach that is very popular with running enthusiasts and, for children, there are playgrounds, huts and slides to enjoy themselves to the full.
Beach: San Juan (Condomina)
---
Composition: sand
Type of sand: golden
Swimming conditions: moderate waves
Length: 2900 m
Width: 60 m
Occupancy rate: high
Degree of urban development: semi-urban
Marina: puerto deportivo costa blanca
Distance to beach: 4 km.
Means of access: On foot easy,Car,Boat
Nearest motorway: a-190
Sunshade rental, sun lounger rental, water craft rental, toilets, footwash, tourist office, litter bin, cleaning service, telephone, sports area, children's play area, surf practice area