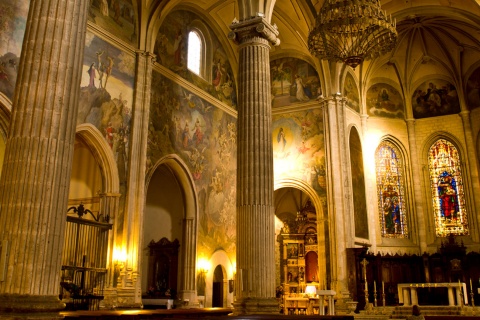 Cathedral of San Juan Bautista (Albacete)
The Gothic church of San Juan was finished in recent times and raised to the status of Cathedral.
The Cathedral is built over the former church of San Juan. It was begun in the early 16th century, and later partly remodelled by Diego de Siloé in the Renaissance style. However, it was not finished until quite recently, attested by the modern main entrance. Inside there are some beautiful and interesting altarpieces, such as in the Chapel of the Virgen de los Llanos, from the 16th century and attributed to the Master of Albacete. It has excellent Gothic chapels with star vaults. There is a notable Renaissance font in the sacristy. The vaults of the central nave are Baroque and rest on fluted Ionic columns built by Gregorio Díaz Palacios.
Cathedral of San Juan Bautista (Albacete)
---
Plaza de la Virgen de los Llanos s/n
02001 Albacete (Castilla-La Mancha)