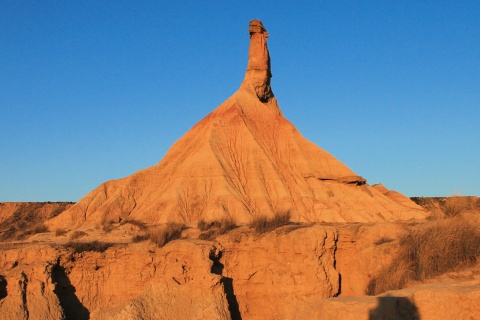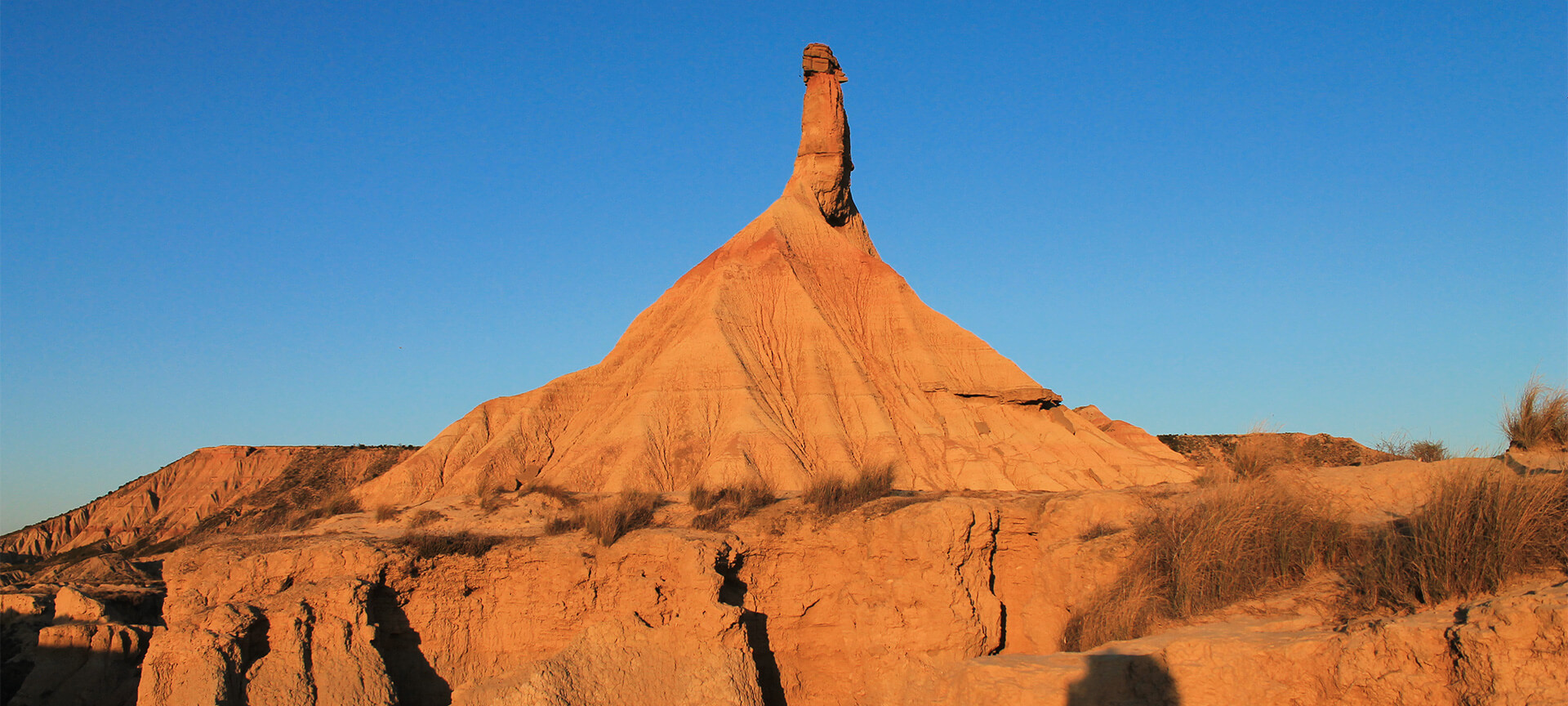 Bardenas Reales Nature Reserve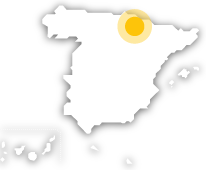 The "semi-desert" of La Ribera
---
To the south-east of Navarre, the 41,845 hectares unfold that make up this Nature Park, declared a Biosphere Reserve by UNESCO in the year 2000, and which includes three Nature Reserves.
It is partially a semidesert landscape, affected by pouring rains that shaped its plaster and clay terrain. Wide plains alternate with ravines, cliffs and hills that reach a height of 600 metres. The area known as Bardena Blanca comprises the whitest landscapes, made of gypsum substratum and steppe vegetation. Aleppo pine forests and clayey soil, on the other hand, form the area known as Bardena Negra. The diversity found in this natural setting is protected by its designation as a Nature Reserve in three specific locations. For instance, the reserve of Vedado de Eguaras, where youcan observe a small cirque surrounded by gypsum ravines and covered with Phoenician juniper, melojo oak and rosemary. The area of Rincón de Bú has gaps where eagle owls, golden eagles and Egyptian vultures nest. In addition, the area of Caídas de la Negra is formed by a group of gaps that are as deep as 270 metres. All together, Bardenas Reales houses some 24 species of birds of prey (peregrine falcon, booted eagle, griffon vulture and so on), in addition to steppe birds such as the great bustard and the lark. The Nature Park is also the home to more than 28 species of mammals, eight of which correspond to micro-mammals such as the pygmy white-toothed shrew and the Algerian mouse. In both the natural and the artificial water pools of the area, trout, barbel and tench can be found, while in the shore you will see newts and frogs sharing the space with numerous reptiles. The ocellated lizard, the ladder snake and the striped neck terrapin are just a few of them.
Bardenas Reales Nature Reserve
---
Arguedas, Navarre (Autonomous Community of Navarre)
Zaragoza (Aragón):
Ejea de los Caballeros
Sádaba
Tauste

Navarre (Autonomous Community of Navarre):

Arguedas
Buñuel
Cabanillas
Cadreita
Carcastillo
Fustiñana
Valtierra
Useful information
What you need to know
---
Cultural information

In the Vedado de Eguaras Nature Reserve, inside the Nature Park, you can visit the ruins of the castle of Peñaflor. The towns of Arguedas and Valtierra have interesting historic quarters, with great churches that should not be missed. The sanctuary of Virgen del Yugo and the monastery of Oliva are also very interesting to see. Tudela, the capital of the region of La Ribera, has important civil and religious buildings in its medieval quarter. Each year, the festivity of Sanmiguelada takes place around 29th September. Migrating flocks and herds from the valleys of Roncal and Salazar then enter Bardenas to graze, as they have been doing for ages.

Environmental information

The varied landscape of Bardenas Reales gives rise to numerous natural habitats, with diverse flora and fauna. Its wastelands, gaps and ravines provide a broad idea of the diversity found in the region of La Ribera.

Information for visits

Arquedas is a great starting point to visit Bardena Blanca. Alto de Aguilares, Castildetierra, Raso de la Junta, Pisquerra, La Ralla, El Rallón, La Cruceta and La Nasa are a few of the places to be visited in this area. To approach Bardena Negra, it is best to use the road that connects Tudela and Ejea de los Caballeros, until you reach Sancho Abarca. El Paso (near the monastery of Oliva), Rada and the sanctuary of Virgen del Yugo are also good starting points.
What to do
Travel plans for inspiring you
---