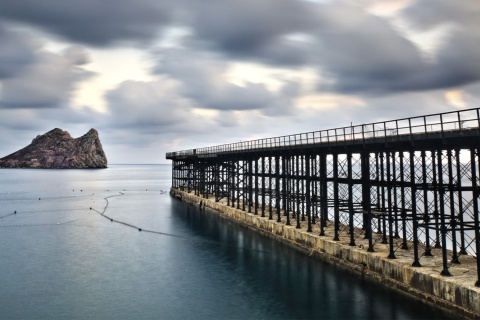 Águilas is a delightful port city located on the Costa Cálida. A tradition of seafaring now combines with a wide range of tourist facilities, making the most of one of its main attractions, the extensive coastline.
Águilas, an old Roman fishing port, was established in more modern times during the Enlightenment, when in 1785 it began to operate as a port of exit for the produce of the Murcia region's fertile fields. In the 19th century it became a major mining enclave, a reminder of which times is the Hornillo jetty, where iron, lead and silver from the nearby mines were loaded onto ships. In Águilas town centre, with a rich seafaring flavour, it is worth visiting Plaza de España's beautiful gardens full of rubber plants, the City Hall (19th century), and the parish church of San José, where the image of the patron saint is housed. At the top of the old town, standing on a promontory, is the castle-fortress of San Juan de Águilas, built in 1579 for purposes of defence. Below it sits the port and its characteristic black-and-white striped lighthouse, in operation since the mid-19th century. The town's Food Market and the railway monument are other places of interest. This seafaring town offers the visitor an extensive coastline stretching some 34 kilometres, a fact which, when combined with an enviable average temperature, makes it one of the main tourist destinations in the Murcia region. We can find solitary coves and beaches with crystal-clear water, such as La Higuerica, La Carolina or Calabardina; urban beaches, such as Las Delicias; and one of the best areas on the Mediterranean coast for scuba diving, thanks to some excellent rocky sea beds, above all on Fraile island and in the area around the rock of Cape Cope. The area around Águilas has other places of striking beauty, such as the Cuatro Calas Protection Area. From among the calendar of festivals held in Águilas, it is worth highlighting its Carnival, declared to be of International Tourist Interest.
What to do
Travel plans for inspiring you
---
Calendar
Shows, festivals, sports...
---
View some of the most relevant events you will be able to enjoy at the destination.