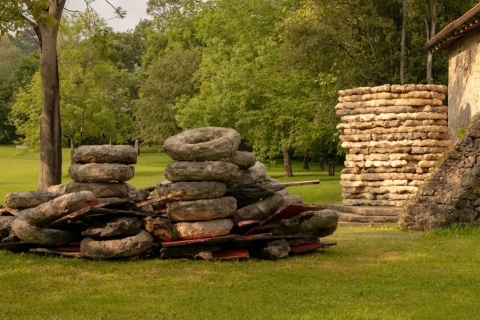 Exhibition: Phyllida Barlow
Exhibition - Sculpture
The Chillida Leku Museum (Hernani, The Basque Country) is hosting the exhibition that the renowned British artist Phyllida Barlow (1944-2023) prepared for the museum a few months before her death. This is the first exhibition in Spain of one of the most internationally renowned contemporary artists. Barlow's work brings us into the present and invites us to look around and reflect on the world we live in.Barlow questions the traditional concept of sculpture in her use of materials such as cardboard, fabric, plywood and cement. The exhibition features a series of sculptures defined as 'anti-monumental' with which the artist approaches concepts such as gravity, mass and materiality, which are also very present in the work of Eduardo Chillida. For Phyllida Barlow, as for the Basque sculptor, space plays a very important role, leading her to study buildings in detail to create unforeseen obstacles that give her sculptures a dramatic presence while offering visitors clues to the creation process itself.
Exhibition: Phyllida Barlow
---
Chillida Leku Museum
Barrio de Jauregi 66, 20120.
Hernani, Gipuzkoa (Basque Country)